---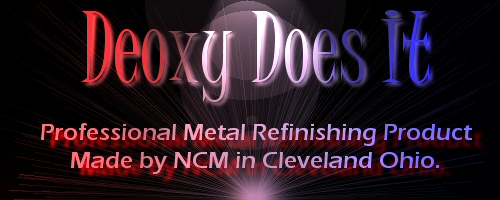 Available in five gallon, one gallon and half gallon containers
Body shop and dealership inquiries welcome as volume discounts may be available to you.
***To order products, please call us at 1-800-233-6573***
Deoxy Does It Pricing
Quantity

Prices

5 gallon container

$129.95

1 gallon container

$29.95

half gallon container

$15.95
Made right here at our facility in Cleveland Ohio
THE ALL NEW, REVOLUTIONARY, PROFESSIONAL GRADE METAL REFINISHING PRODUCT.ONE GALLON MAKES TWO FULL GALLONS,WHICH CAN BE REUSED MANY TIMES OVER AND OVER AGAIN!!!!DE-OXY-DOES-IT CAN BE SPRAYED ON BODY PANELS TO REMOVE LIGHT SURFACE RUST AND TO LEAVE A PHOSPHATE COATING FOR EXCELLENT PAINT ADHESION.DE-OXY-DOES-IT IS ESPECIALLY GOOD AT STRIPPING HEAVILY RUSTED PARTS,JUST SOAK THE RUSTED PARTS IN THE DE-OXY-DOES-IT SOLUTION UNTIL ALL THE RUST IS TOTALLY GONE.THIS IS FAR SUPERIOR TO SANDBLASTING WHICH CAN WARP SHEETMETAL OR PEEN OVER THE METAL AND STILL TRAP RUST IN THE PITS AND CAUSE RUST TO COME BACK IN THE FUTURE. BID WITH CONFIDENCE,THIS PRODUCT COMES WITH A 100% SATISFACTION GUARANTEE!!!!SO ...IF YOUR RESTORING YOUR FAVORITE CAR OR YOU JUST WANT TO KILL SOME RUST ON HOUSEHOLD ITEMS THE EASY WAY.......THEN THIS IS JUST WHAT YOUR LOOKING FOR!!!!!!GOOD LUCK BIDDERS THIS STUFF IS NOT SOLD IN STORES...............GET YOURS TODAY!!!!!!!!!!!!!!!!!!!!!!!!!!!!!!!!!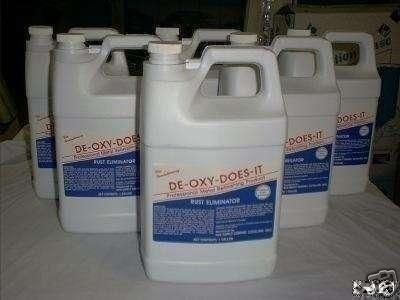 Pictures
Testimonials
SCOTT HYNES- "DEOXY MADE MY TRUCK'S UNDERSIDE LOOK GREAT. IT ATE ALL THE SURFACE RUST OFF AND LEFT A GREAT FINISH THAT THE PAINT WENT TO LIKE A MAGNET. AFTER TWO OHIO WINTERS, IT IS STILL LOOKING GREAT. WONDERFUL PRODUCT, ITS A GREAT BUY AND IS REUSEABLE OVER AND OVER AND OVER AGAIN. THANKS NCM FOR HELPING ME MAKE MY OLD UGLY TRUCK LOOK GREAT AGAIN."
ROCKY, OUR HEAD TECH AT NCM, " I CAN'T IMAGINE WORKING ON SHEETMETAL WITHOUT DEOXY, IT JUST MAKES THAT SURFACE RUST MAGICALLY DISAPPEAR. ITS REALLY A GREAT PRODUCT THAT ACTUALLY WORKS."
TONY BALL, " I'VE USED DEOXY DOES IT FOR MOST OF MY PROJECTS AT MY SHOP, MY CUSTOMERS ALWAYS ASK ME WHAT THE SECRET IS TO MY WONDERFUL METAL POLISHING WORK, WELL DEOXY DOES THE HARD PART REMOVING THE RUST AND I JUST FINISH WITH A GOOD POLISH AND SHINE. THE PARTS COME OUT GREAT, READY FOR PAINT, ETC."